! Scott Frederick> <! Scott Frederick> <! Scott Frederick>
Welcome To: Total Internet Technical Service
because with good TITS, you don't need extra support!
Page created with: BRAIN POWER
(Text editor only! No fancy-shmancy web page programs for me)
My page gets lamer every week!!!

JUST BITE ME!!!


You have joined:


other retarded people who have visited this site - most of them looking for pics of my butt.

Last update: 10/10/00.


---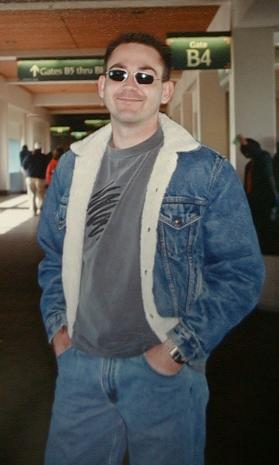 New stuff since last update: Well, once again, I've neglected my web duties. Almost 7 weeks since I bored you with new details of my rather plain life. The word for this update is: spazified defined as: resulting state of discontent that occurs when you are inundated with vast amounts of bullshit work that other people should be doing. To use in a sentence: Harry has been totally spazified ever since those five people in his department quit. Word for the week archive. "Quote of the update time frame:" "A thing does not cease to be useful simply because it is not in the grasp of one's understanding." Quote of the update time frame archive. What else? Cathy did make it to visit for Labor Day Weekend. Since then, I've made a trip to Cincinnati to visit old friends from MAVCO (man, was working there a joke). Anyway, these guys, Marc, Rex, Amir, and Andy have all started their own A/V company and are just having a blast. Check out their web page: TDI. They really know their shit! I just got another dog. BJess took the big plane from Orlando to be with her old pal BJ. I'll try to get a pic up next time. In the mean time, check out the "other pictures" link below to see some pics of the neighbor's rotweiller (spell that) puppies. 12 of them all together. That is the only link I've updated. Only other news is that I got an 11% raise at work a few weeks back. I'll take it. "Vanity" license plates are really cheap in New Mexico. Will somebody please give me a good idea? C'mon. This has been here for about 6 months now, and not even one suggestion. Older stuff: And another thing. I found out I'm not a pig. My quest for females is fully explained in this textbook used for a class at UNM. Read excerpt here!!. I knew it wasn't me. Best of the Internet. Computer hardware buying. General computer information. Pictures of me! Pictures of friends. Other pictures I've taken. Personal info about me. My career info and resume. Stuff I did in school. Computer networking info. Includes stuff to help you get on the internet. Audio equipment stuff.
HEY, I FINALLY CHANGED THAT AUDIO FILE THAT AUTOMATICALLY LOADS EVERY TIME YOU CLICK BACK TO MY HOME PAGE. YOU'RE WELCOME. IF YOU REALLY MISS IT, CLICK ON THE LINK FOR PERSONAL INFO!!!! If you need to contact me, send email to: stud@iloveme.net
or to:andrade@hubwest.com if you don't get a reply from the iloveme address.....
pager email:4028705@skytel.com 256 characters max...